Gypsy and Honey doing what Cairns do best
~~~~~~~~~~~~~~~~~~~~~~~~~~~~~~~~~~~~~~~~~~~~~~~~~~~~~~~~~~~~~~~~~~~
I have owned Cairn terriers since 1978, my first being a family pet. I always wanted to show but having a young family this was something that had to wait. In 1987 I acquired my first show Cairn, Vanajam Gypsy Lady (Gypsy). Very soon after getting Gypsy another Cairn was added to the family, this time I went to Mrs Monica Shuttleworth and brought home Monarys Saucys Goldfinch for Vanajam (Honey). These two bitches set me on my way with my breeding programme and all of todays Vanajams trace back to these two bitches.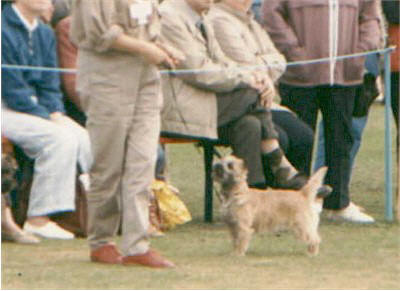 In the show ring both Gypsy and Honey gave me great fun. Both qualifying for and being placed at Crufts and all in my first year of showing. Honey was 3rd in postgraduate bitch and Gypsy was 3rd in limit bitch. That was it I was well and truely hooked on dog showing!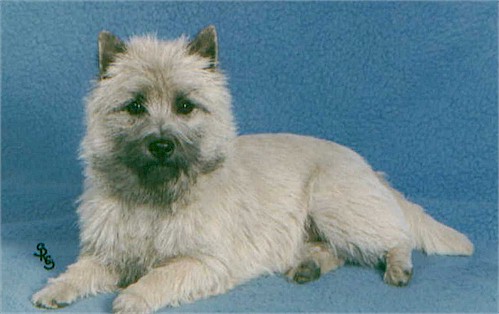 When it came to selecting stud dogs for my bitches I used a combination of Penticharm and Uniquecottage dogs, as this is what was behind my bitches. This combination has served me well.
Gypsys daughter, Vanajam Gypsys Crystal Ball (Crystal), produced me my first two Champions. The litter brother and sister Ch Vanajam Norse Voyger (Ross) and Ch Vanajam Fortune Teller (louis)&nbspand in doing so is listed as an influential brood bitch. This achievement I am very proud of.
Ch Vanajam Norse Voyger proved himself as a Top Sire, being the sire of 4 Uk Champions, plus overseas Champions in Denmark, Sweden, Germany and the USA. He is also the sire of numerous CC and RCC winners.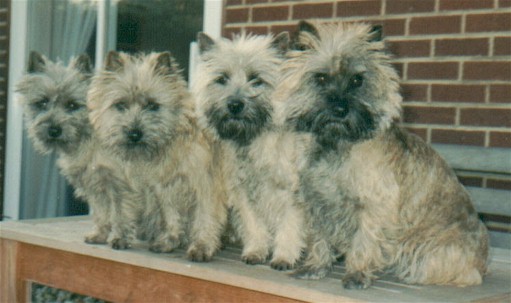 Four of the Original Vanajam Girls; Lucky, Crystal, Honey & Gypsy.

I chose the Affix Vanajam as this is an amalgamation of my daughters and sons names:

VANESSA&nbsp&nbspAND&nbsp&nbspJAMES.

~~~~~~~~~~~~~~~~~~~~~~~~~~~~~~~~~~~~~~~~~~~~~~~~~~~~~~~~~~~~~~~~~~~




JUDGING





I first started judging in 1992, since then I have judged the Uk Joint Cairn Terrier Clubs Open Show, hosted by the South Wales & West of England Cairn Terrier Club and the Southern Cairn Terrier Clubs Open Show. I have also judged the breed in Denmark and Sweden at Club Open Show level. I have taken all the Kennel Club exams required to progress to judge at Championship level and awarded CCs for the first time in 2006 at the Welsh Kennel Club. I will be awarding CC's in the breed for the second time in April 2009 at The National Terrier Club.

~~~~~~~~~~~~~~~~~~~~~~~~~~~~~~~~~~~~~~~~~~~~~~~~~~~~~~~~~~~~~~~~~~~